Kenan Sofuoglu TUR Mahi India Kawasaki ZX-6R
Fabien Foret FRA Mahi India Kawasaki ZX-6R
David Salom ESP Intermoto Step Kawasaki ZX-6R
Luca Scassa ITA Intermoto Step Kawasaki ZX-6R
Kev Coghlan GBR DMC Lorenzini Kawasaki ZX-6R
Vladimir Ivanov RUS DMC Lorenzini Kawasaki ZX-6R
Alexey Ivanov RUS DMC Lorenzini Kawasaki ZX-6R
Andrea Antonelli ITA GoEleven Kawasaki ZX-6R
Luca Marconi ITA PTR Honda CBR600RR
Nacho Calero ESP PTR Honda CBR600RR
David Linortner AUT PTR Honda CBR600RR
Sheridan Morais RSA PTR Honda CBR600RR
Matt Davies AUS PTR Honda CBR600RR
Lorenzo Zanetti ITA PATA Honda CBR600RR
Michael van der Mark NED PATA Honda CBR600RR
Gabor Talmacsi HUN Prorace Honda CBR600RR
Imre Toth HUN Team Toth Honda CBR600RR
Alex Schacht DEN Team Toth Honda CBR600RR
Jack Kennedy IRL RivaMoto Honda CBR600RR
Eduard Blokhin RUS RivaMoto Honda CBR600RR
Fabio Menghi ITA VFT Honda CBR600RR
Balazs Nemeth HUN SMS Honda CBR600RR
Alex Baldolini ITA Lorini Honda CBR600RR
Sam Lowes GBR Yakhnich Yamaha YZF-R6
Vladimir Leonov RUS Yakhnich Yamaha YZF-R6
Massimo Roccoli ITA Pata by Martini Yamaha YZF-R6
Dino Lombardi ITA Pata by Martini Yamaha YZF-R6
Luca Salvadori ITA Pata by Martini Yamaha YZF-R6
Mathew Scholtz RSA Suriano Suzuki GSX-R600
Mitchell Carr AUS AARK Triumph Daytona 675
Christian Iddon GBR ParkinGO MV Agusta F3
Roberto Rolfo ITA ParkinGO MV Agusta F3
| | |
| --- | --- |
| | |
PTR Honda has announced Sheridan Morais as its lead rider for the 2013 World Supersport Championship following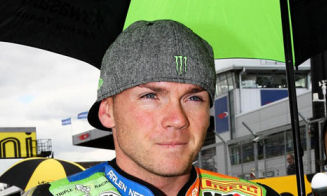 an impressive rookie campaign with Kawasaki in 2012.
A multiple champion in his native South Africa, Morais made his full-time World Supersport debut in 2012 as part of the factory-backed Kawasaki Lorenzini team, where he proceeded to secure a maiden podium on the way to sixth place in the standings.
Morais's move to PTR Honda comes after impressing the team during a test last month, the 27-year-old signaling his desire to aim for the top in 2013.


Newly crowned double World Superbike champion Max Biaggi announces retirement.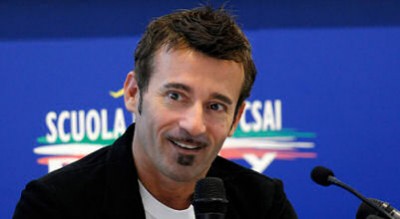 Reigning double World Superbike champion and four-time 250GP title winner Max Biaggi is to retire from racing.
The announcement was made during a special press conference organised at the Vallelunga circuit, where the 41-year-old Italian first began racing.
Biaggi is proud to have been competitive right to the very end of his illustrious career, but feels that he now has to dedicate more time to his family.
"Everything began by chance for me here at Vallelunga," said Max.
"I was a young guy who had nothing to do with the world of motorbikes, but something 'sparked' in me and what followed has been a kind of dream that has taken me a very long way.
"It's my choice to retire now," Biaggi added. "I'm not injured and had a new contract offer from Aprilia – same bike, same money – but I think I've taken enough time from my children and my wife. It's the right time to stop."
Max Biaggi started his international career in 250 GP at the relatively late age of 20 in 1991, but by the end of the following year he had notched up his first race win at Kyalami in the same category. He continued to race in 250 GP until the end of 1997, taking four successive title wins, and was then in 500/MotoGP from 1998 until 2005, a category in which he won a total of 13 races without ever taking the overall championship victory. After a year away from the sport he switched to World Superbike, immediately winning his first race in Qatar in 2007. A further 20 victories, the last one of which at the Nurburgring this year, together with two world championship titles followed in a career that has seen the Italian cement his place as one of the legends of world motorcycle racing in the last two decades.
Just a few hours after the riders had stepped off their bikes, the 2012 season was brought to an end with the traditional awards ceremony, which this year was held in the Auditorium of the Magny-Cours circuit in France.
Following introductory speeches from Paolo Flammini (Infront Motor Sports CEO) and Stephane Desprez (FIM CEO), the top 3 riders in the five racing categories – Superbike, Supersport, Superstock 1000 and 600, European Junior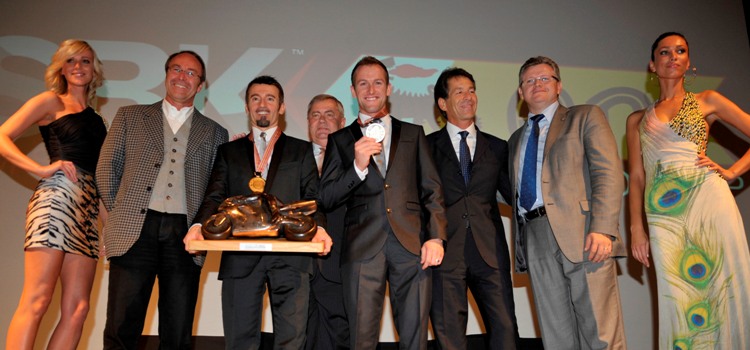 Cup – were called onto the stage to receive their gold, silver and bronze medals, FIM diplomas, Pirelli and Tissot awards and end-of-season trophies. The awards were handed out by Rezsö Bulcsu (FIM Road-Racing Commission Director), Paolo Flammini, Stephane Desprez, Jean-Marc Desnues (UEM Vice-President), Igor Eskinja (Jury President) and Claudio Calabresi (eni Wholesale Executive Vice-President).
Max Biaggi, Tom Sykes and Bernhard Gobmeier (representing Marco Melandri) from Superbike, Kenan Sofuoglu, Jules Cluzel and Sam Lowes from Supersport, Sylvain Barrier, Eddi La Marra and Jeremy Guarnoni from Superstock 1000 and Michael van der Mark, Riccardo Russo and Gauthier Duwelz from Superstock 600, as well as Lukas Wimmer, Gaston Garcia and Javier Orellana from EJC stepped up on stage for their awards, while the Superbike, Supersport and Superstock 1000 Manufacturers' prizes went to Luigi Dall'Igna (Sports & Technical Director Aprilia Racing), Carlo Fiorani (Honda Motor Europe Racing Operations Manager) and Fabien Raulo (Kawasaki Race Coordinator), with Dall'Igna also receiving the eni trophy for Winning Superbike Manufacturer from Claudio Calabresi.


Carlos Checa and Cluzel received the Pirelli 'Best Lap Award' from Giorgio Barbier (Racing Director) and Ilaria Casarini (Marketing Manager) for the Superbike and Supersport riders who totaled the most fastest laps throughout the season, while the Tissot Superbike and Supersport Superpole Awards were presented by Matt George to Sykes and Cluzel.
Tissot also presented two special Media Awards to journalist Paolo Gozzi from Italy and photographer Kel Edge from Britain in recognition of their sterling work over the last 25 years, during which they have been present at virtually every World Superbike race.
Source: worldsbk.com
The closest ever finish in the history of the Superbike World Championship took place at Magny-Cours today when Max Biaggi (Aprilia Racing Team) finished the race fifth and in doing so he ended up the season 0.5 points ahead of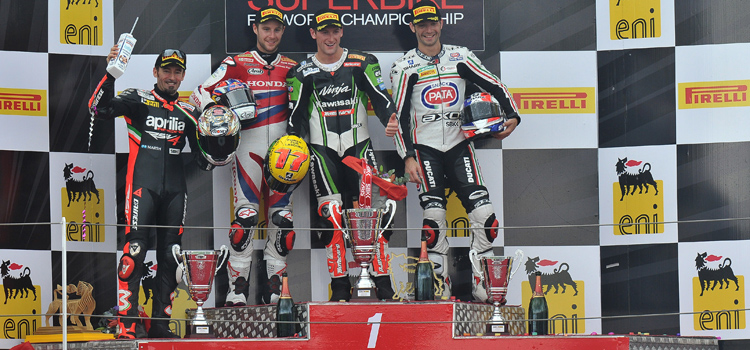 Tom Sykes (Kawasaki Racing Team).
Sykes did all he could in winning race two, while Biaggi did just enough by finishing fifth, the final points reading Biaggi 358 and Sykes 357.5. Jonathan Rea (Honda World Superbike Team) was second in the 23-lap race, with Sylvain Guintoli (PATA Racing Team Ducati) third.
Biaggi's team-mate, Eugene Laverty was fourth in the race, but the other championship hopeful Marco Melandri (BMW Motorrad Motorsport) crashed out of contention. He finished third in the points in any case, on 328.5. This was Biaggi's second Superbike World Championship success, having won the title with Aprilia in 2010.


Source: worldsbk.com

MARCO WON'T GIVE UP ON OUTSIDE CHANCE
Marco Melandri is ready to ride through the pain barrier as he attempts to snatch the eni FIM Superbike
World Championship crown from Max Biaggi's grasp at Magny-Cours.
BMW rider Melandri led the standings two rounds ago, but two crashes at the Nürburgring were followed by another in race one at Portimão last time out as he slid out when trying to pass rival Biaggi in the damp conditions.
The fall in Portugal had serious consequences as the Italian was struck by a following bike, cracking two of his ribs and leaving him with painful contusions on his back. The injuries meant Melandri was forced to miss race two, and Aprilia rider Biaggi capitalised on his rival's misfortune by taking a solid third place in the second race of the day.
Biaggi now holds a handy 30.5-point lead over Kawasaki's Tom Sykes, with Melandri now a further eight points back. With a maximum of 50 points still up for grabs, Sykes and Melandri will need some bad luck to befall Biaggi, but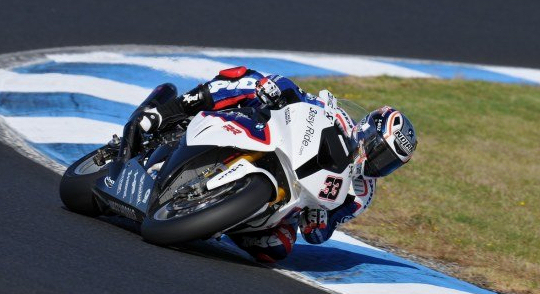 Melandri will do whatever it takes to ride in France with his hopes still alive.
"After the crash I am feeling better day by day, although my back and right side still feel sore," said Melandri. "When I watched my crash on TV, it really looked confusing. Actually when I was on the bike, it was simply impossible for me to do any different, as I did not see Max.
"I really hope to be fit for the final races in MagnyCours. I simply want to jump on my S1000 RR, have some fun and finish the races in the best possible way and position." Melandri was kept in hospital overnight after his accident, but quickly returned home in order to rest and ready himself for the demands of the final round at Magny-Cours. But BMW team doctor Vincenzo Tota believes Melandri will not be hindered too greatly by his injuries.
"The two ribs are not linked to the sternum, so they are not involved in breathing that much. Even if they are broken, it is not so painful," he said. "Another positive thing is that they are not misplaced. It is not a total fracture, but more a small crack. Marco now has to rest and avoid stress to the area. For the race weekend we will apply a taping to reduce the range of motion of the chest. Therefore it will not be painful and will be easy to handle.


1 Max Biaggi ITA Aprilia 347

2 Tom Sykes GBR Kawasaki 316.5

3 Marco Melandri ITA BMW 308.5

4 Carlos Checa ESP Ducati 278.5

5 Jonathan Rea GBR Honda 255.5

1 Kenan Sofuoglu TUR Kawasaki 218

2 Jules Cluzel FRA Honda 185

3 Fabien Foret FRA Kawasaki 160

4 Sam Lowes GBR Honda 152

5 Broc Parkes AUS Honda 135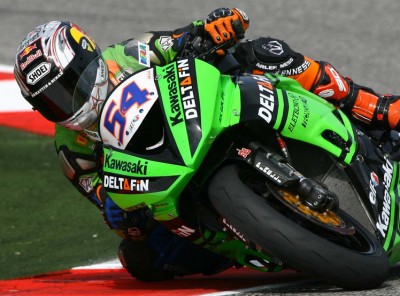 Supersport world champion Kenan Sofuoglu has praised his Kawasaki machine as he tries to end a fantastic season with another win at Magny-Cours.
The Turkish rider cannot be caught in the race for the title, and believes winning his third crown has been made extra special by the qualities of his bike.
He said: "I think in the race Kawasaki riders have much more advantage. My bike makes my job really easy.